Windows Server 2022 - New system image
Dear customers!
We are pleased to inform you about adding fresh Windows Server 2022 system image to our servers in Ukraine and Poland. It means that now you can order VPS virtual server with preinstalled system Windows Server 2022 and the system image will be automatically installed on your server from the prepared clean image within a few minutes! You just have to wait for connection and authorization data to the server.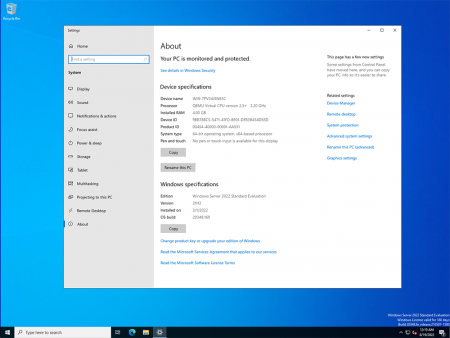 Windows Server 2022 is a new version of the Windows Server family of systems with more improved security for services, software and hardware. Protocols such as HTTP/3, HTTPS and TLS 1.3 are now enabled by default and securely protect the data of clients connecting to the server. This eliminates the obsolete encryption algorithms and increases the level of connection security compared to older versions. The Windows Admin Center has not been ignored either, which now allows the user to report on the status of the secure kernel functions mentioned above, as well as allowing clients to manage these functions. Improving TCP/UDP performance, reducing packet loss, providing smoother network data flow with better performance at high speeds.
What to do for those who use Windows Server 2012/2016/2019 systems in Ukraine and Poland, but want to switch to a more recent system for more reliable server operation?
In this case we can offer two options to solve this situation.
You need to download the Windows Server 2022 installation disk image to your server and run the installer directly from the server system. It is worth paying attention to the edition of the system offered by the installer, namely, for the standard work with the server in graphical mode, you should choose the version (Desktop Experience). Also we highly recommend not to download system image from third party sources, but to use official Microsoft website.
Reinstall server system through virtual server control panel https://vds.isplevel.com.

(Important!)

In this case all information on the server will be deleted. The server disk will be completely formatted. You will get a completely clean copy of Windows Server 2022. We advise you to save all important information from the server to your local computer beforehand.
Still have questions?
You can feel free to contact our support service or chat on the website and we'll be sure to tell you all the information you need!
To order a virtual server with the new, improved and secure system, follow this link
https://isplevel.com/en/vds.html
Windows systems are available from VDS Level 3 tariff.